Let's face it, people come to an event to be entertained. At the Kelmarsh Show we have some first class entertainment on offer within the Kelmarsh Show Main Arena!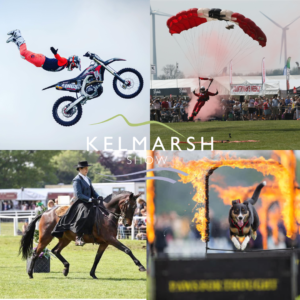 Set within the stunning grounds of Kelmarsh Hall, the Main Arena is the hub of all events, and this year we are delighted to welcome an all star line-up.
Headlining will be the Red Devils Parachute Display Team who will diving into the Main Arena each day. Highly skilled individuals, if you have not seen this performance before, you really don't want to miss it!
Squibb Freestyle MotoCross Stunt Team will be providing the skills on the ground, with their high octane Motocross stunt display. Done at speed, some of the skills shown really are out of this world!
New for 2023, we are delighted to welcome the Sussex Lusitanos for their first appearance at the Kelmarsh Show. Now in its 7th year it has fast become one of the highest profile Iberian shows to take place in the UK.
And last, but certainly not least, are the Paws for Thought Dog Display Team. Watch in amazement as these canines test their ability through tricky agility tests and also FIRE!
This is one of the best line-ups we have had at the Kelmarsh Show, and we can't wait for it all to happen!