We are excited to bring to you a fantastic Pheonix Gaming Marquee to this Easter's Kelmarsh Show.
Attending Kelmarsh over the 17th & 18th April, the Phoenix Gaming Club will be setting up and bringing several participation miniature table top games which will enable visitors to play numerous have-a-go games, whilst maybe even, changing the course of history!
Full of fun and captivating scenerios, the Gaming Marquee has plenty of games lined-up and will surely keep visitors of all ages totally engrossed.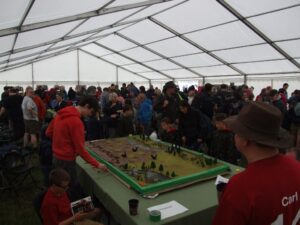 Here's just a few of the games that players can look forward to taking part in.
Cybercity Terminus: A Science Fiction Participation Game: Join the various starship bandits, Cyber gangs, mercenaries, and Xeno cartels descending on Cybercity Terminus, and fight each other and the Star Marshals for possession of a treasure trove of information that will set you up for life…or get you dumped into the closest trash vaporiser.
Battle at the Plains of Woe: A large Kings of War fantasy game. The Dark Elvish Twilight Kin of T'sksan Bloodcry with their allies the nightmarish Nightstalkers arrive at the Plains of Woe. However, Undead forces of Count Wolfrik face off on the other side!
The Walking Dead: Adapted from the comics and TV series. The Walking Dead is a post-apocalypse world wherezombies are rife and survivors must resist them in their search for vital resources. Players can take control of a small group of survivors and combat similar groups, as well as the zombies, to secure supplies. A simple dice-based game suitable for teenagers and adults.
Hugely popular and sure to engross visitors of all ages, the Gaming Marquee is fun and one to check out this Easter. Interested in joining the Phoenix Gaming Club? Why not chat with one of the members across the weekend to find out more!
If you're on the lookout for something different to entertain the family this Easter Bank Holiday, then browse this website and discover everything we've got in store. Visitors can also pre-book tickets and save too.
 Let the adventures begin!